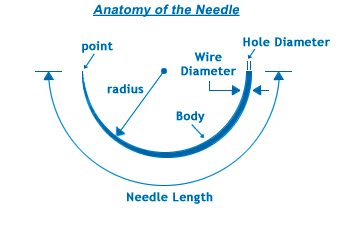 point
This portion of the needle extends from the tip to the maximum cross-section of the body. The average point length of beko's standard needles are in a ratio of 1:8-10 of the needle diameter and , special needles of the ratio 1:12, the best suited to impart minimum resistance and trauma during repeated passes through tissue. beko's needles are Hand Honned to give a superior point.
Body
This part of the needle incorporates the majority of the needle length. The body of the needle is important for interaction with the needle holder and the ability to transmit the penetrating force to the point. The body of beko's needles are shaped to give the best performance. The cross-section usually oval , square or triangular depending on the point type. The body is also provided with Ribs( serrations) for better holder grip and additional strength.
Radius
This determines the shape of the needle as either straight or curved.
Straight:

This body type is used to suture easily accessible tissue that can be manipulated directly by hand. The straight-body needle is also useful in microsurgery for nerve and vessel repair.

Curved:

The needle has a predictable path through tissue and requires less space for maneuvering than a straight needle. The semicircular path is the optimal course for sutures through tissue and provides an even distribution of tension. Body curvature commonly is a 3/8 circle, ½ circle, or 5/8 circle. The curve angles of

beko's needle

are 135deg for 3/8 circle, 180deg for ½ circle and 225deg for 5/8 circle.
Length
The distance measured along the needle from the point to the swage is termed needle length. Needle length is the measurement supplied on suture packages. The length of beko's needles have a tolerance of +/- 0.50mm.
Diameter
The gauge or thickness of the needle wire is considered the diameter. beko manufactures needles of various needle diameter for each USP size leaving the choice to each customer. The tolerance of the needle diameter are maintained at +/- 0.01mm
Swage
The suture attachment end should create a single, continuous unit of suture and needle. beko's needles are provided with precise hole diameter and hole depth to enable the swage to be of the right diameter and also offer the maximum pull strength.
Coating
The needle may be coated with silicone to permit easier tissue passage. The high quality of Medical grade Silicone coating on beko's needle helps reduce the force needed to make initial tissue penetration and minimizes the frictional forces, as the body of the needle passes through the tissue. The perfect coating ratio prevents any peal off during use.